THE ORIGINAL BOOK: DELLE SCRITTURE IN CIFRA USATE DALLA REPUBBLICA VENETA, DI LUIGI PASINI.
TRANSLATED : WRITTEN CIPHERS USED BY THE REPUBLIC OF VENICE, LUIGI PASINI, 1872. TRANSLATED, 2021. D.P.J.A. SCHEERS.
ISBN: 9798700119559. Imprint: Independently published
Published 25 jan. 2021. English. 54 pages.Size: 15.6 x 0.33 x 23.39 cm
Available as paperback /or as E-book/ on Amazon.com
or any other Amazon site, Bol.com etc.
For European readers Amazon.de or .uk or .it is recommended.
---
The work of archivist Luigi Pasini, published in 1872, during his work in the Archives of Venice is translated. It provides a glimpse of the ciphers in the Archives and the hidden treasures of Venetian cryptography. It focusses on the translation and provides some insights on the Venetian Cancelleria and the earliest ciphers, of which the oldest example is from the year 1411.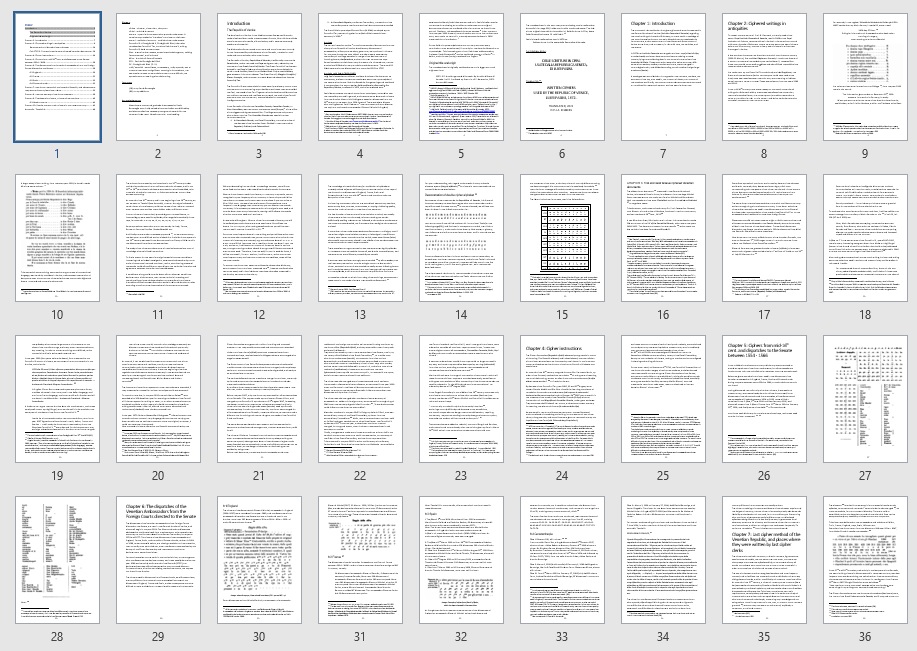 Index
Introduction
The Republic of Venice
Original title and origin
Chapter 1: Introduction
Chapter 2: Ciphered writings in antiquities
Demonstration of double cipher alphabet
CHAPTER 3: First and most famous ciphered Venetian documents
Chapter 4: Cipher instructions
Chapter 5: Ciphers from mid-16th cent. and dispatches to the Senate between 1554 – 1566
Chapter 6: The dispatches of the Venetian Ambassadors from the Foreign Courts directed to the Senate
6.1 England
6.2 France
6.3 Spain
6.4 Constantinople
Chapter 7: Last cipher method of the Venetian Republic, and places where they were written by last cipher clerks
Chapter 8: How the secrecy of the cipher was seen
Chapter 9: Treatises with ciphers, prints and manuscripts
9.1 Modern works
Chapter 10: People that work with ciphers in the present century
Appendix : Tavola 1-4
---